Vintagetears
Regular price
$1,615.00 USD
Regular price
$1,615.00 USD
Sale price
$1,615.00 USD
Unit price
per
Sale
Sold out
You will be charged a deposit today and the remaining balance before delivery.
Expected release date: 364
This product is a custom engagement ring builder. 
Select different options to create your dream engagement ring. Please refer to our Order Process page for next steps.
Feel free to send us an email if you're unsure on what to choose! We are happy to help.
FAQ
How long will it take to receive my ring?
Please refer to our Order Process page for details
How do I know what size I am?
If you'd like to order a ring sizer, you can do so here. Otherwise, there are many online tools to help determine your ring size from home. 
What quality stone will I receive?
Read all about our available stones here. This online builder is for a moissanite stone. If you're looking for CVD coated moissanite or a lab-grown diamond please send us an email for your quote. Other stones are available by request.
Should I get insurance?
We can't tell you what to do, but we do strongly suggest considering obtaining insurance for your ring. 
We work with Jewelers Mutual insurance for our insurance needs. We will send you a link to your insurance quote once your order has been placed, at which point you can decide whether to insure. If you're a past customer and have not purchased insurance, but would like us to send you a new quote, please reach out to us directly.
Send a hint 😉
Materials

Our prices listed on our website are for moissanite.

If you're looking for a different stone, such as lab-grown diamonds, send us a message.
Sizing

Select your ring size from the drop down above.

Not sure of your size, you can purchase a ring sizer here; or go to a local jeweller to be professionally sized.

If you're not sure of size at the time of purchase, we are able to make the ring resizable.
Care information

We hope that this quick guide will help you in your search on how to clean moissanite and other We recommend that you regularly clean your moissanite jewellery to maintain the sparkle and fire. You can contact a local jeweller to have your ring cleaned professionally (they usually offer this at a low cost or free of charge).

HOW TO CLEAN MOISSANITE AT HOME

Fill a bowl with warm soapy water (dish soap is fine) and soak your ring for 10-15 minutes.
Remove your ring from the soapy water and scrub lightly with a 

soft

 toothbrush. Make sure to get all angles of the ring to release the most dirt.
Dry with a microfibre cloth.

Try to avoid wearing your ring while performing heavy duty tasks like lifting furniture, going to the gym, gardening or any task that your ring might get stuck or damaged easily. 

We recommend removing your ring while showering and washing dishes to avoid build up of dirt or cleaning products like shampoo and conditioner. 

Removing your ring while sleeping will help avoid the prongs loosening by getting caught on threads or material but this is totally optional!

We recommend taking your ring to a local jeweller at least once a year to be inspected. Having a jeweller check the prongs will ensure that your stone stays firmly in place. 

 

Prongs can become loose over time and should regularly be checked to ensure that your warranty remains in place. 
View full details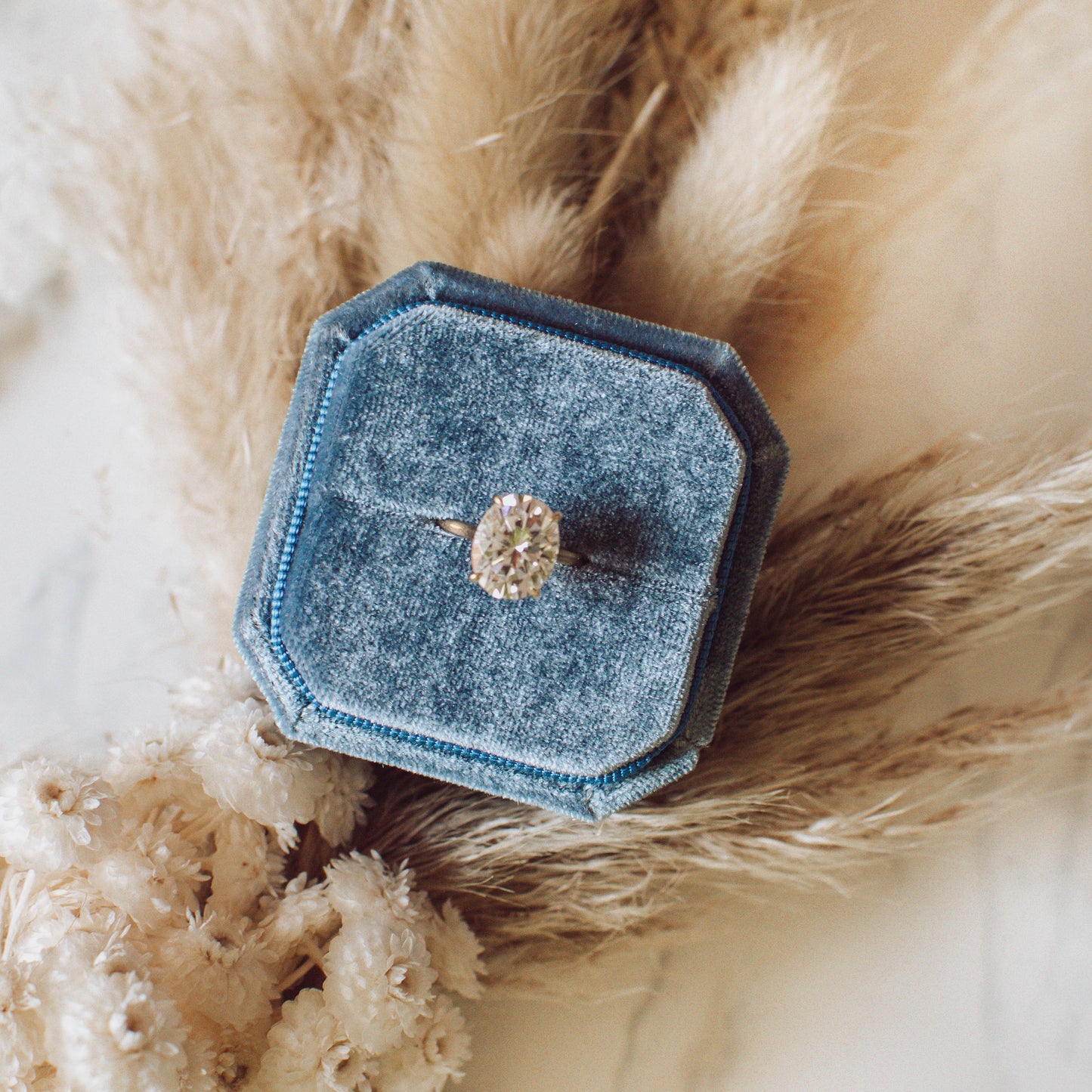 Schedule a call with our designers
Schedule a consultation with our designers to discuss options within your budget, brainstorm design ideas and ease any concerns associated with this large purchase.
Schedule a call
Still stuck?
We'd be happy to help you price out your dream ring. Reach out to us and we will get you a quote within 24 hours*
Request a quote